Letter from Edgar Jenks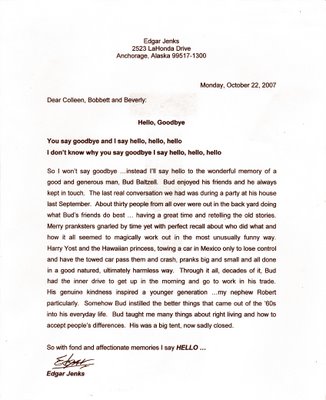 Hello, Goodbye

You say goodbye and I say hello, hello, hello
I don't know why you say goodbye I say hello, hello, hello
So I won't say goodbye...instead I'll say hello to the wonderful memory of a good and generous man, Bud
Baltzell
. Bud enjoyed his friends and he always kept in touch.
The last real conversation we had was during a party at his house last September. About thirty people from all over were out in the back yard doing what Bud's friends do best ... having a great time and retelling the old stories. Merry pranksters gnarled by time yet with perfect recall about who did what and how it all seemed to magically work out in the most unusually funny way.
Harry
Yost
and the
Hawaiian
princess, towing a car in Mexico only to loose
control
and have the car pass them and crash, pranks big and small and all done in a good natured, ultimately harmless way.
Through it all, decades of it, Bud had the inner drive to get up in the morning and to to work in his trade.
His genuine kindness inspired a younger generation ...my nephew Robert particularly. Somehow Bud instilled the better things that came out of the '60s into his everyday life. Bud taught me many things about right living and how to accept people's differences. He was a big tent, now sadly closed.
So with fond and affectionate memories I say HELLO...
Edgar
Jenks